"Bull markets are born on pessimism, grow on skepticism, mature on optimism and die on euphoria."

Sir John Templeton
John Templeton (1912 – 2008) was a great investor, fund manager and philanthropist. He is best known for setting up the Templeton Growth Fund which averaged returns of over 15% per year for 38 years. Slack Investor salutes this kind of behaviour and listens when great investors say something. If Mr Templeton is right, this game should be pretty easy and we wait till the "Euphoria" sets in and the we sell … Right?
Well, according to the CitiGroup Panic and Euphoria Index , which looks at sentiment in the market back to 1950. The section from 1987 through to the start of 2021 is shown below – Euphoria is already well and truly established by December 2020. However, most markets have gone up considerably further since then!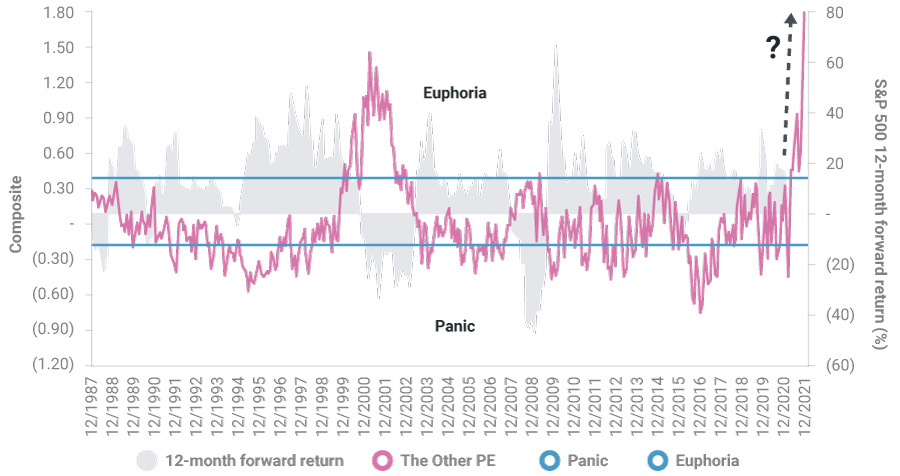 This is a bit of a complex chart, and the grey solid columns represent the return from the US Stock market for the next 12 months (forward return) and the Magenta line is the Citibank Euphoria Index which tracks market sentiment.
Visually, it looks like whenever the Euphoria Index (LHS – Magenta) goes to a high value, there is a downturn in the next 12-month return (RHS – Grey). Citibank have defined a range (Blue Lines) where the market is operating "normally" and outline areas of Euphoria and Panic when the market is beyond that range. According to Citibank, we are in a period of Euphoria and the prospect of good returns in the next 12 months looks bleak. The Chief Economist from Citigroup, Tobias Lekovich, suggests that there is a "100% historical probability of down markets in the next 12 months at current levels." – that proclamation was made 5 months ago.
Another Slack Investor hero, Warren Buffet, talks about the ratio of total United States stock market valuation to US Gross Domestic Product (GDP). This is now known as the "Buffet Indicator" – and, although he admits to its limitations, it still is "the best single measure of where valuations stand at any given moment". At April 22, 2021 the Buffett Indicator is calculated to be 234% – the highest value since 1950. In contrast, the Australian market using this indicator is either "fair valued" or "modestly overvalued"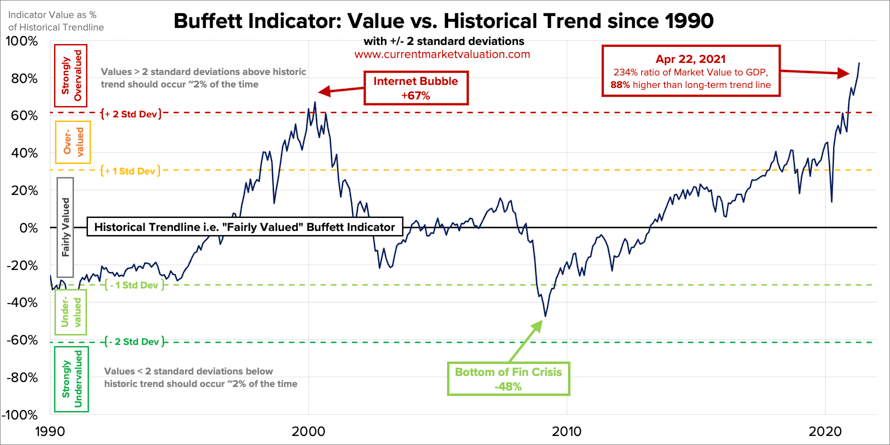 By our calculation (the US Stock Market) that is currently 88% (or about 2.9 standard deviations) above the historical average, suggesting that the market is Strongly Overvalued

Current Market Valuation
There are a lot of current examples of "investor exuberance" in the stock markets – particularly in the US. There is no doubt that the pricing of some companies has got well out of hand. The earnings of a company are critical when I look at my investments.
Another risk is that pockets of the market at the moment appear to be speculative bubbles. You can easily tally about US$5 trillion of assets, from cryptocurrencies to Tesla, that are not underpinned by any fundamental earnings. They're speculation. And if these bubbles were to pop, that could drag down a wider range of investments.

Hamish Douglas, Magellan Financial Group – Livewire Interview
There are a group of companies that I like that I have no intention of selling – because they have a good track record of increasing earnings and there future prospects look good – no matter what the market does in the short term. There is also about 40% my portfolio in stocks where I am not so sure of their long term prospects. It is these stocks that I will be watching closely at the end of every week and have set stop losses that will indicate to me that I should sell if the price falls below the stop loss.
Slack Investor is happy to go along for the ride and has no real faith in his prediction ability. Sure, stocks are at extreme valuations but these are very unusual times. Interest rates are very low and there has been an unprecedented amount of government spending to keep economies going along.
Still on the couch, I don't feel euphoria … but I feel OK … I have a plan.
April 2021 – End of Month Update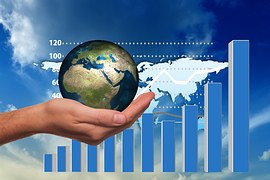 Despite the "exuberance", Slack Investor is still on the wave and remains IN for Australian index shares, the US Index S&P 500 and the FTSE 100. All Slack Investor followed markets this month had strong rises (ASX 200 +3.5%; FTSE 100 +3.8%; S&P 500 +5.3%).
In these uncertain times, especially with the high prices on the US market, I am monitoring my index funds weekly and if, at the end of the week my Index funds are below the stop loss, then I will put a post on the blog and sell at the next opportunity. All Stop Losses are Live.
All Index pages and charts have been updated to reflect the monthly changes – (ASX Index, UK Index, US Index).